..."pour new wine into freshly prepared wineskins, and in this way both are preserved..." Matthew 9:17 This is the ongoing story of our Torah school journey, family projects, crafts, holidays, and teaching life skills to my fresh wineskins...
Tuesday, October 18, 2011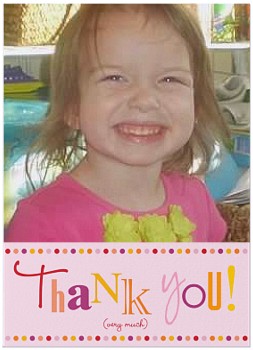 Thanks Much Blush Thank You Card

Wednesday, October 12, 2011
Since it is traditional to read the book of Jonah on Yom Kippur, I took this opportunity to teach my daughter the story of Jonah along with talking about Yom Kippur. Amazingly, the bubble balls are still hydrated, so we added Jonah & the Big Fish to them! She enjoyed playing with Jonah in there! In addition, I filled the "whale" with items that begin with our letter this week, E.
Also for letter E, we made adorable elephant out of our handprints, which I found
here.
My daughter loved putting "dot" stickers (like for pricing garage sale items) on an elephant and eggs, so we will definitely do that for other letters. You can print the "Do-A-Dot" ABC pages from www.homeschoolcreations.com by clicking here.
I found this great lesson on Jonah here (scroll down until you see "The Lesson.") I printed that out and simplified it for my little one, and also printed and cut out the emotion faces that go with it, so as I read she had to find the correct emotion to go with the story. It was great, and held her attention so well that we did it twice during the week! For review, I also had her glue the faces onto a sheet of paper while we talked about how Jonah felt and why.
It was cute, and my daughter loved it. I wanted to read it because I found some printables to go along with it here. Most of them were beyond a two year old, but I used the word cards, so as we read, she could point out what the little girl was praying about. She has asked to read that book again many times, so I recommend it! Also for prayer, I used a page out of the FFOZ booklet, Thank You for the Food, which has all of the blessings before meals. I cut out the pictures so she could match them up and glue them on and then we also added on some real dry food items to remember that G-d made all food, and that we are to thank Him for it. (You can use a cheerio for a "bagel" and goldfish crackers for "fish", etc.)
Because my daughter would have a hard time understanding what Yom Kippur is all about, I chose to talk about repentance (saying you're sorry to G-d), and His forgiveness (one of His attributes we are learning about.) Those themes are found in the story of Jonah. Our Torah verse for the week was Jonah 2:3 "Out of my distress (trouble), I called to Adonai, and He answered me." Lastly, we did a few worksheets on the number 5...
...and learned a new Hebrew word beginning with dalet: dag, which means "fish."
It was a fun and meaningful week, and a great reminder of G-d's forgiveness on Yom Kippur. Now we are preparing for the rejoicing of Sukkot!
Tuesday, October 4, 2011
*Pertaining to Parashah Ha'Azinu (Deuteronomy 32:1-32:52)
With Yom Teruah (Rosh Hashanah) this week, we had an abbreviated preschool week, but it was fun. To learn about the holy day, we made a cardboard shofar and glued on the picture of Moshe declaring "Ha'azinu" and the stars and moon from the
weekly coloring pages
here
on aish.com. Also using the coloring page for the verse that compares the teaching to rain ("May my teaching fall like rain"), we glued the Torah raindrops to a
rainstick craft found here.
We decorated it with puffy fabric paint for raindrops.
Also for Yom Teruah, we made our own apples and honey plate. I improvised upon an idea found in the back of the book "Apples & Honey"." I simply cut out a red apple from posterboard and glued it onto a paper plate, used foam leaves and brown cardstock for stem, and cut down a yogurt cup and wrapped it in cardstock for the honey dish. The Hebrew word for honey, davash, was cut out from the aish.com Rosh Hashanah coloring pages found
here
.
Our Torah verse this week was taken from Deuteronomy 32:3 & 4: "Come, declare the greatness of our G-d! The Rock! His work is perfect!"
We painted a couple rocks (from my Dead Sea collection) and made a holder for them that said "The L-rd is my Rock!" from Psalm 18:2. The craft idea is
here
.I simply used a disposable coffee cup bottom for the holder. These cute little rocks have become one of my daughter's favorite toys! She carries them around the house. :)
Thanks to a couple shows on Nick Jr. my little girl loves dinosaurs, so this week for the letter D, we made "dinosaur fossils/footprints" which I found on one of my favorite homeschooling websites, www.icanteachmychild.com. You can see her instructions here. This was a lot of fun, and since they contain only coffee, salt, and flour, the fossils are really easy to make. The fossils smell like dirt and old coffee, but I wouldn't give them to little ones who would try to eat them (they kind of look like cookies!) We only have one plastic dinosaur, so we used other animals as well. After they were dried out, we tried to match the animals to their footprints.
Also for letter D, I filled the sensory tub with dirt and put some plastic gardening toys in for her to dig in it with. For extra fun, I gave her some sunflower seeds to "plant" and some plastic bugs (which she did not like). It was great, but don't make the mistake of closing the tub up with all of that in there in humid weather! When I opened it again, it was growing something nasty. I don't know what it was, but it wasn't sunflowers! The sensory tub has been a real trial and error experience for me, but it is disinfected and ready for something else! :)
Our Hebrew letter this week was gimel, which my daughter knows from the dreidel game! I used the Hebrew word for camel, gamal, on the akhlah.com worksheet here and glued it onto a brown piece of cardstock and we made a desert scene for the camel. The camel picture was from a coloring book, and we glued on Styrofoam packing material painted brown. Thanks to a friend in Florida, I also had some sand to glue on under the camel's feet!
Additional activities included painting with Q-tips and mixing primary colors to see what colors we could make, which was fascinating to my two-year old! We also made camel paint footprints with small plastic camels, and did worksheet for number four.
Hope you had a blessed Yom Teruah!
~Joanna